-(all the following photos are taken on the road with a smartphone if not specified different)-
Day 1
..after a, let's say, nice trip…and a run throughout Dubai airport due to a delay of french traffic controllers… finally got in Entebbe. Temperature is good, around 25-27 degrees, sun is hot but not strong: Entebbe is located at about 1.200mt asl.
My driver took me to the place I stay for the night and the fact that is fat from the city and actually in between the villages, turned into a really nice surprise: an oasi with a pond, full of trees (and vervet monkeys..), hammoks, sits where to stare at the sunset over the forest..good beer and food. Happy.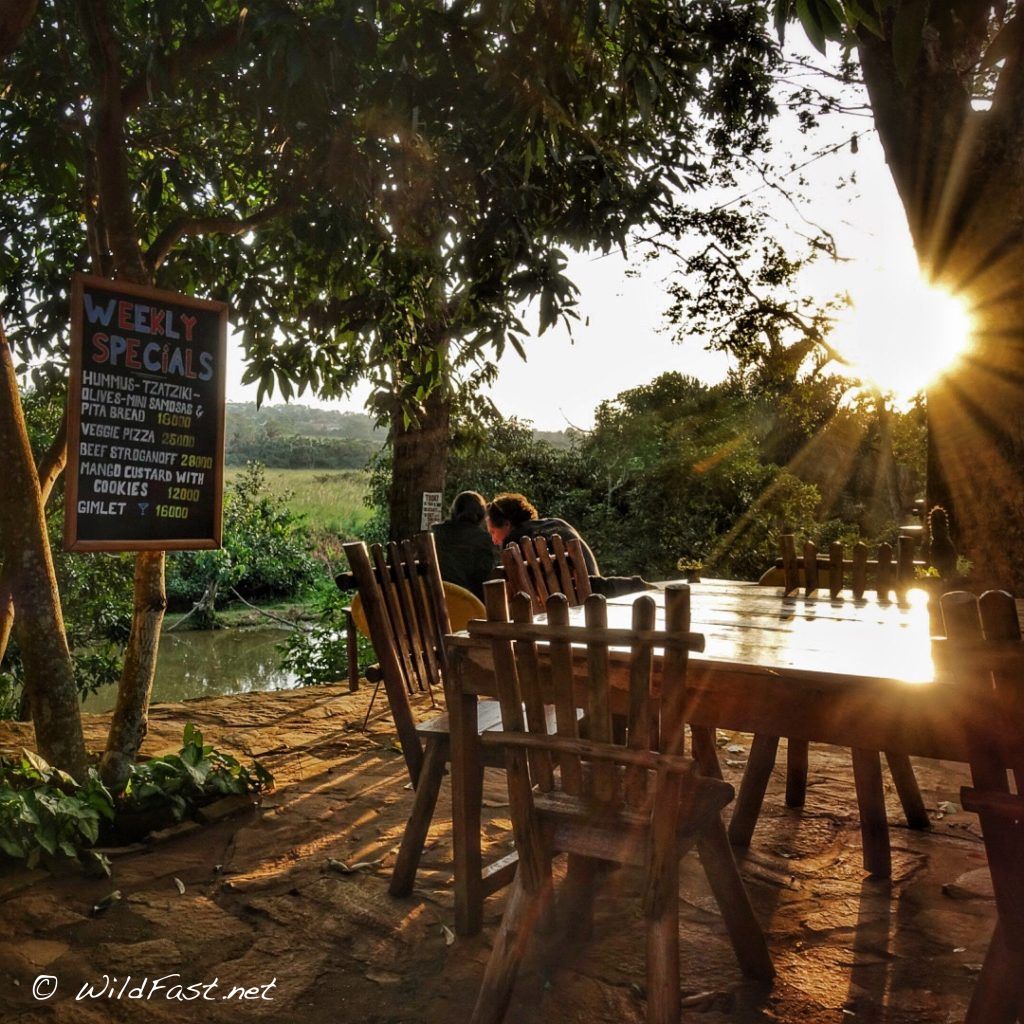 As I arrived, I asked where it is possible to do a mobile sim card with internet bundle (always a good way to stay in touch and for safety, even if you have a sat). I got offered to get a bodaboda (a moto-taxi-man) but I wanted to walk a bit and visit the villages so I did the same mistake that I do everytime I'm in Africa: asking to a local if a place is fat to walk or not. Mistake because for them is always close..some minutes walking by…
Well, after 90 minutes walking over red roads I came out in a main street where I've been able to contract a local mobile sim card. On the way back, I stopped in the village close to my compound to interact a bit with a big family and doing my speciality: playing with the kids to become the "white king of the village", the super Mzungu.
I got even offered of a chair to stay more so I spent an hour with them: they speak more or less a good english but not kiswahili. Only a few people here understand kiswahili, influenced by Kenya closed about 2 hours from here.
Next step; getting some good local food. Tonight special: chapati and beans (my favourite), matoke potatoes and sweet ones, salads ans something I actually did not understand..
It's about 8pm but I feel like it's midnight so…back in the compound: room is simple but really comfortable and clean, with a nice view and a special "home made" radio: nature with its sound. That's all I need.
I'm gonna jump on the bed because I'm really tired.
See you tomorrow…. click
(please donate for my school project if you feel it)
———-
Day 2
Wake up at 7.. I had a really good sleep. A healthy and good breakfast and here we are: on the road with my driver Charles. 
Charles is 64 and has 5 sons: 2 of them are just graduated as doctors. This costed him hours and hours of work far from his family but it is happy like this. As any african person I spent the time with, he wanna know more about me an my life: well, we will have about 6/7 hours drive for our destination of today: Fort Portal first and Kibale forest then.
We passed throughout many villages and towns along the road, fortunately with not so much traffic. Road are more or less in a good situation: some hole sometimes, some death animal, someone crossing walking by and some undone terrain road. Nothing new. The news is that is everything up and downhill and all green: such an amazing view.
After a couple of hours we stopped to eat one of Uganda specialty: Kijaa, cooked bananas. We bought 4 from one of the street kids that actually tried to convince me to get even a couple of meat skewer (the meat had a known shape and didn't seems cow..). 2000 Uganda shellins (about 50cents) and we left. Cooked bananas are really tasty and are more fleshy than usual ones. Here in Uganda they have 4 types of babanas: standard yellow ones (1 big and 1 small), a green one that they cook or fry and this one that is sweeter and they usually eat it for breakfast or during the day.
After climbing uphill 'till about 1.800mt asl, we arrive to a sacral place he want me to see: Nakalima, a huge tree that is the spirit of the people. All around the tree there is a carpet of hay, to keep its root warm. To get close to it, is mandatory to unwear the shoes, sign of respect. Here, many kids of the school are having a class with the teacher that suddenly came to me to tell me that the kids want to have a photo with me..after having some fun with them, I took a tour around the tree: many people are laying down close to it offering food, water or what they have. They believe that praying it, it will bring richness, health, work, food..so they spend time under Nakalima hoping for some gifts.
Headed west to Fort Portal we stop to eat in a local place and than a couple of hour more. In this part of the trip we passed throughout kind of paradise: blue sky, green hills made of green-tea plantations brightening under the sun.. In this region there is the biggest production of green-tea to be exported in all the world and actually, is still all "hand-made": men and women are spending the whole day bent in the plantations to cut the leafs, fill up the big baskets the wear on their back and take them to the main road where someone will recollect them…and back again in the plantations, up and downhill..all day long…
After some document-fixing to get the permit for tomorrow to go into a reserve area in the Kibale forest…we arrived to the place I'm gonna spend the next 2 nights: a magnific tented camp in the middle of the forest. Maybe is not for everyone, but I love it. Ok, the bath is about 50 meters far and at night you need a light and a bit of courage but come one…is the jungle…and there is a bath!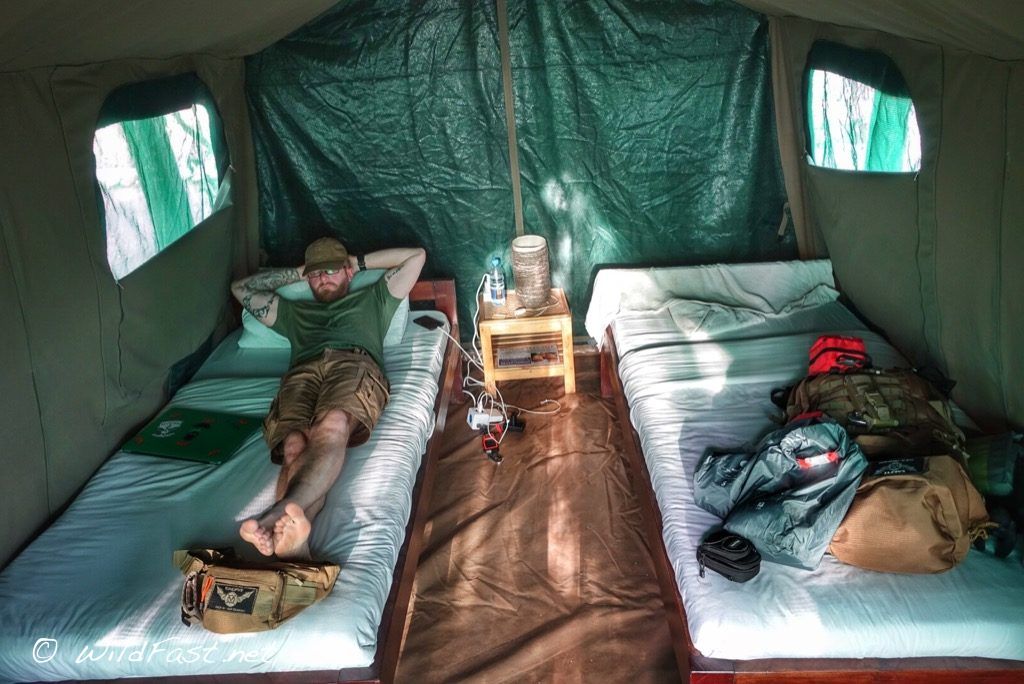 Over my tent is full of monkeys and can't leave my shoes outside…we don't want monkeys with shoes around the jungle. No wifi, no 3g (just a few and super slow emts)…but at least a 220v plug so I can charge all my stuff. Energy comes from solar panels.
A super shower, some laundry and let's go for a beer and some food in the wood house the built up here close. 
A nice evening in listening to lot of sounds of the nature and….straight into my tent to prepare all the stuffs for tomorrow. 6:15 am I'll leave for the jungle…animals wake up soon! And so me!
See you tomorrow… click!
———-
Day 3
5:30 wake up call…
5:45 a good energy breakfast
6.15 the driver is picking me up from the tent camp; destination: jungle.
I had the possibility to patrol de jungle with a ranger to track some sub-groups of chimpanzee not yet habituated to humans.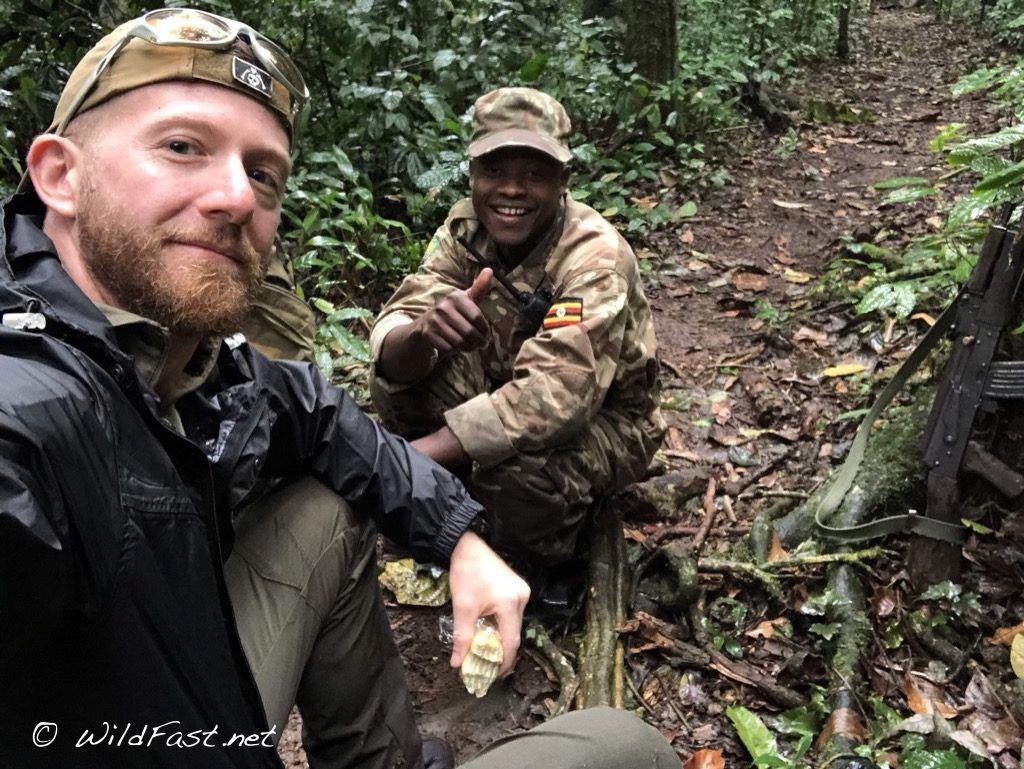 Day started not as the best one: after about 45' walking, it began to rain like hell. Ponchos on, but I did a mistake: I brought the short one and not the real poncho. Result: pants wet and backpack too even with its cover. T-shirt a little bit as well. Fortunately, the most important thing is dry: the feet. And the cameras..
We spent about 4 hours walking in the jungle under the rain, some times on some track , other times in between a tight vegetation.
Unfortunately, when is wet or is raining, chimps prefer to stay on the high trees eating, resting and f… ops… mating. 
We spotted several males and females building a nest or moving from tree to tree to get food. They have a nice diet: 70% of fruit, 20% of leafs and 10% of meat. Meat comes normally from other smaller monkeys such as the red-tailed monkey that they kill and eat. How? Well…first of all, chimps eat meat just when they are full of energies to be sure to be strong enough to run and jump through the trees; this happen normally 1/2 times a month.
To hunt, they are divided in 4 "unofficial groups": drivers, chasers, ambushers and catchers. The males plan everything and some female can join but not evreryone. After chasing and ambushing the prey, the catchers get her tail while trying to escape, they trow her down and start to lunch it side to side holding it from the tail till it get dizzy.
Then, they bring it to the alpha male that open its chest and eat the liver or the heart. Once ate, the rest of the body is gifted to the others components.
Rain stopped and some chimps started to climb down a little bit but unfortunately not too much because the ground is wet and muddy and they prefer to stay over the tree resting and eating.
After about 11 hours in the jungle we came out with a nice experience in the closet. Now, time for a big shower (hoping not cold) and to rest a bit while sorting out the photos of the day.
Tonight, I invited Charles for dinner and we talked about our families and countries. 9pm, time to go sleep…I'm very tired and tomorrow will be a long day even if lucky I'm gonna sleep more, till about 7:30am.
See you tomorrow…. Click!
———-
Day 4
Wake up call a little bit more late at 7:30. Has been a rainy night and actually is still a bit. I wanted to visit the swamp that cross a couple of villages where many primates lives togheter with hundreds of bird species but… due to the weather I prefer to change the plans and, accordingly to Charles, we deviate to visit a bit more the area: we took on road that goes through the hill and…a green paradise opens up to my eyes. Amazing green hills made of bananas plantations, ground-nuts, mais..with some house in the middle sometimes totally covered; lakes settled into volcanos craters..a really beautiful and relaxing view. I spotted several bird such as the kingfisher, the crested eagles… and lot of good moments. 
Driving up and downhill in the common african red roads, in between plantations and villages, I saw many instants that I'll never forget; the best one? a beautiful woman walking barefoot while covering by the rain with a big palm leaf over the head. I did not shoot the photo because I wanted to fully enjoy that moment so deep.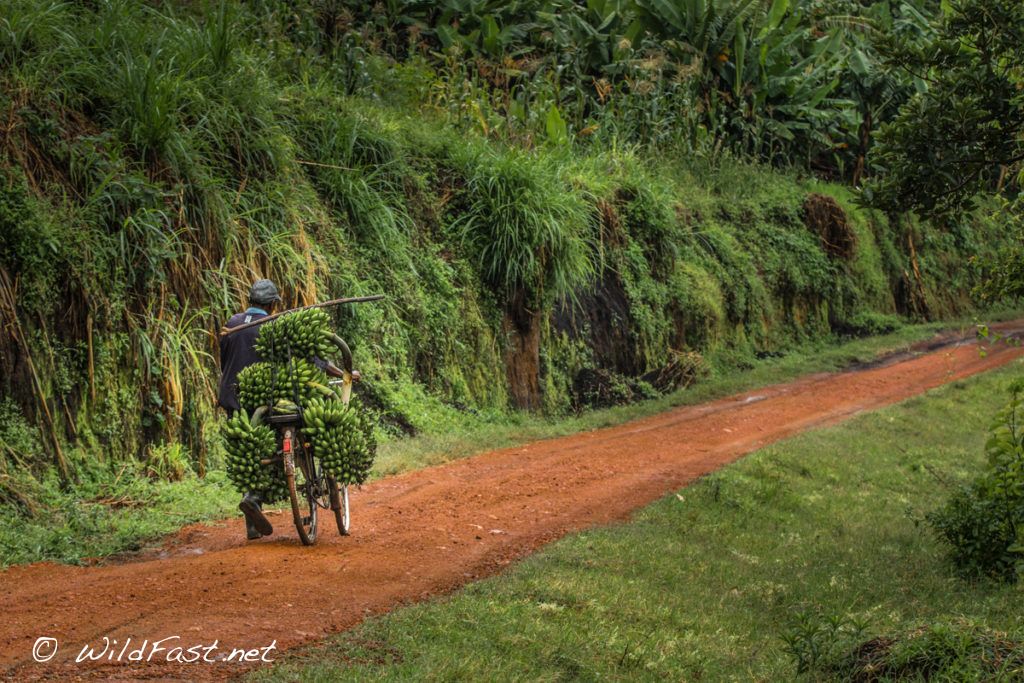 On the road, I spotted a big community center with a school, a christian church and lot of kids playing around. I decided to stop and visit the church, conscious about creating some mess with the kids: and it happened. 
I have not even been able to open the door that dozens of kids came to me: as usual they wanted to touch me, to take my hand and mainly touch my forearm tattoo. I tried to keep them calm but it's a mission impossible. Just the time to visit the church and ask God to protect their future (and our) that we left because they had to start again with the school and if I'm here it's never gonna happen.
Back again in the car, a short stop to change the money ( I actually got a good locals street change, thanks to my funny kiswahili) and buy some water and ground-nuts and then headed straight to Queen Elizabeth park.
A stop at the Equator it's mandatory before continuing…
Just before arriving, a stop for some local food where I tried a super energetic local dish called Kaloo, that "should" be a mix of water, flavour of something, carbon and..sand.. a good hit to my intestine bacterias fortunately already fine tuned. 
George stopped before to buy some mango and the girl of the "restaurant" cutted it for us and served it on a plate: we ate it on the car.
Passed the bridge on the Kazincha channel, we finally arrived to the place I'll stay for the next 2 nights: a nice tent over the lake from where you constantly hear hippos roaring an elephants, besides lot of birds singing…at 6 am. To go out of the tent at night you need a flashlight or, better if you are not used to, to call one of the guards: it's the wild..and you can have a close encounter with a hippo or elephant etc.. If you don't know how to react, can turn out to be dangerous.
After some paperwork, we went for a first short safari of a couple of hours and then back to the tent. Tonight I had my first close-contact: I went out of the tent at 4am to piss and…I met a hippo gazing around: a bit scared (hippos are unpredictable and can be really dangerous), I slowly step-back to get back into my tent. 
So…time to sleep, see you tomorrow…click!
———-
Day 5
Wake up call at 5:30 – this morning I'll go with a researcher and conservationist to track lions. After some amazing view of grazing elephants families at sunrise, we went straight into the park for the meeting and the briefing.
The researcher came in our car and started to use a directional antenna to track lion positions: those lions have a collar that permit the researcher to find them and see if they are good or, actually, alive…
While driving I firstly met a dead body of a hippo devoured by a male lion we will meet later: the smell of the body is incredible, is a smell of death that remind me a day of long time ago when I was deployed on duty.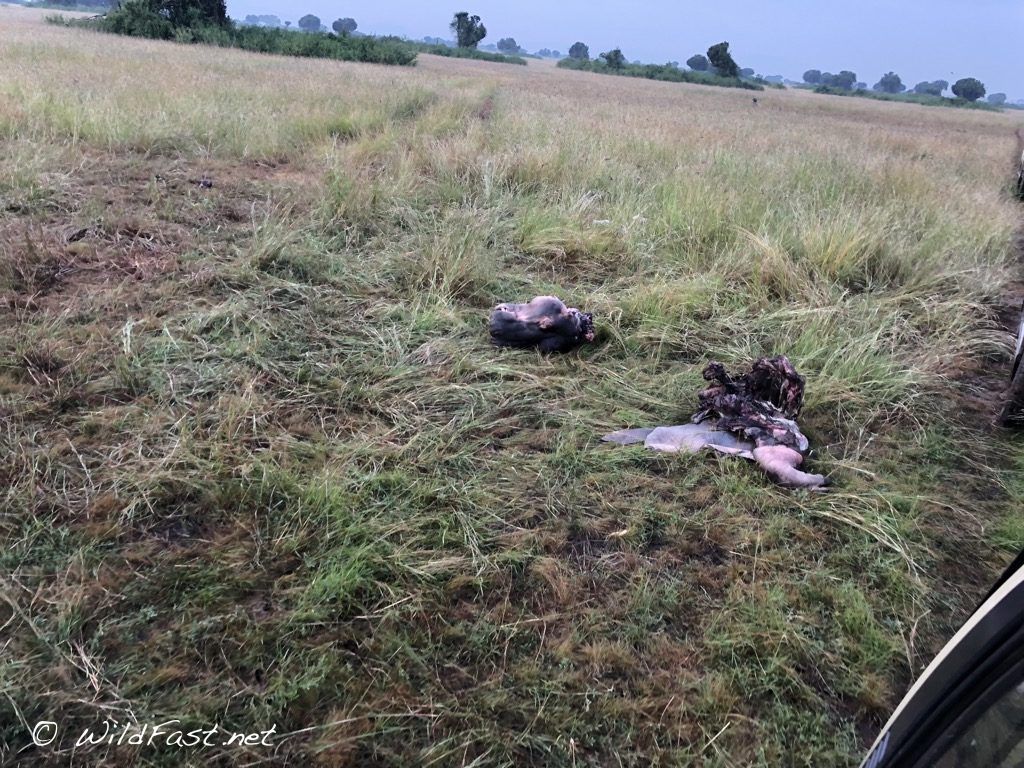 After approx a hour we met an old female lion relaxing in the grass; than mom and son lions playing and then climbing onto their favourite trees: the cactus one. Both were panting: why? Because they have eaten a lot of meat (protein and fats): eating too much meat create an acid environment in their stomach (our too) so while panting their are able to increase the level of carbonate to regulate the pH (we do the same as a physiologically defence through the deep breathing).
Meanwhile the researcher is once again called by some local people and he gets angry: locals living in the park are telling him they will kill some lion during the next days because at night it ate some of their cows. Problem? the park built them up fences for their animals but they still leave them outside at night…what do you expect to? A cow is a super easy prey for a lion… "You can tell them many times, they don't understand. You can't trust in humans"….how not to agree…?
After having spotted other lions, back to eat something and then I took a boat to explore the Kazinga channel: Kazinga channel link Lake St. George to Lake Eduard (which is 50/50 between Uganda and DR Congo).
A couple of hours spotting amazing landscapes and wildlife: kingfishers a go-go coming out from their nests to fish and back, fisher eagles, hippos, buffalos, nile crocodiles, pelicans etc etc.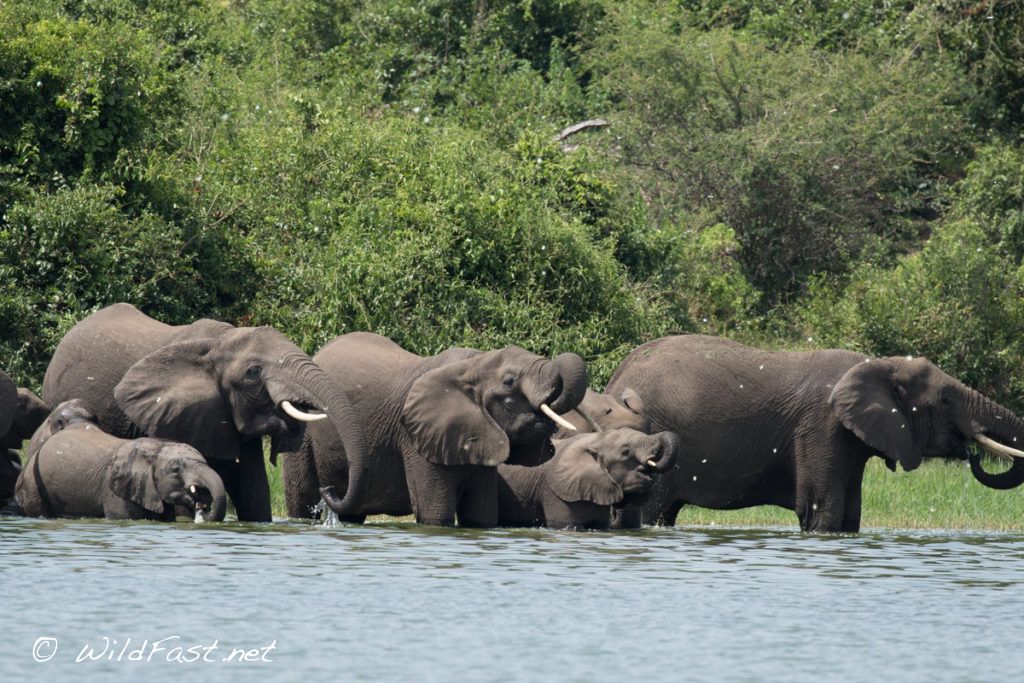 Fortunately, today I've been able to cut out a couple of hours of free time: I need it. 90 minutes to sort out the amount of photos I took during the day and 30' to nap.. then dinner.  
9pm, I'm already in the bed really tired. So..
See you tomorrow…click!
———-
Day 6
Tonight I slept a lot and really well. I woke up regenerated at 6:30 even if the alarm has been set at 7:30. The sound of the nature helped me to wake up.
This morning we will have breakfast and then back con the road headed south-south-east: a 6 hours drive to the Lake Bunyonyi. My trip as I planned it should finish with a coming back to Entebbe the 8th day but I decided to do a stop more on the way back because, talking with some peoples, I got tell about a really nice place over the hill with a view on the lake and park Mburo..can't say no.
On the road I stop almost every now and then: the view is always beautiful with an ocean of plantations and colours. 
I stop in lakeshore to take a photo and I got "disturbed" by a guy (not a news) that tried to convince me that I had to pay him something cause that area belong to him.. After explaining I'm not a "tourist" and I don't like to be fucked..he came close and my driver arrived to be sure nothing happened.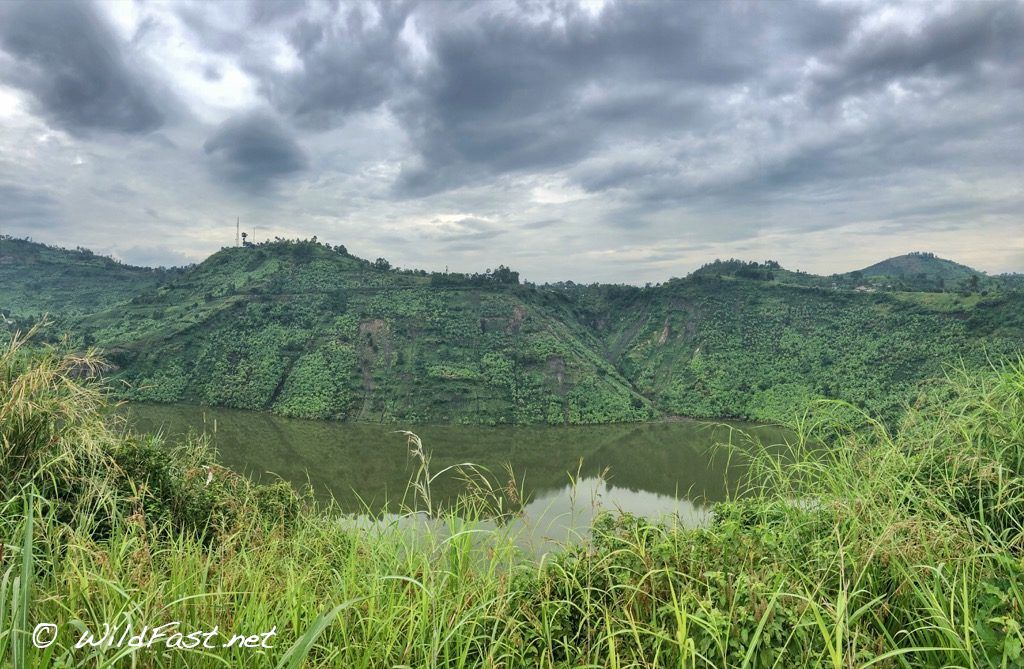 Back on the road, I got a couple of view totally mind-blasting and that made me think… Prisoners with a yellow suit digging in a cave and a man under a civil arrest by some citizens that beaten him up for robbery, put him handcuffs made with a cord and transported him to the closest police station. Things that sometimes I would love to see in our "civilised world"… I also have "lost" some photos: sometimes the moments, the looks, the situations are pretty hard and you need sometimes to metabolize them; the last thing you want is to break this moment getting the camera.
"The best photo I did? the one I did not do…"
On the road is always possible to see lot of "musingi": bricks pile that people make to sell. Practically: they dig in the ground, make brick shapes using the water and let them to dry up some days. Then, they build a pile of them (sometimes really big with about 3-5.000 bricks..!) leaving some tunnel down under. When it's made, they put fire in those tunnels; what happen: the pile start to get really hot and when the entire structure change color becoming almost black…they are ready to be sold and used in the construction of houses..! Kids, women and men work into this.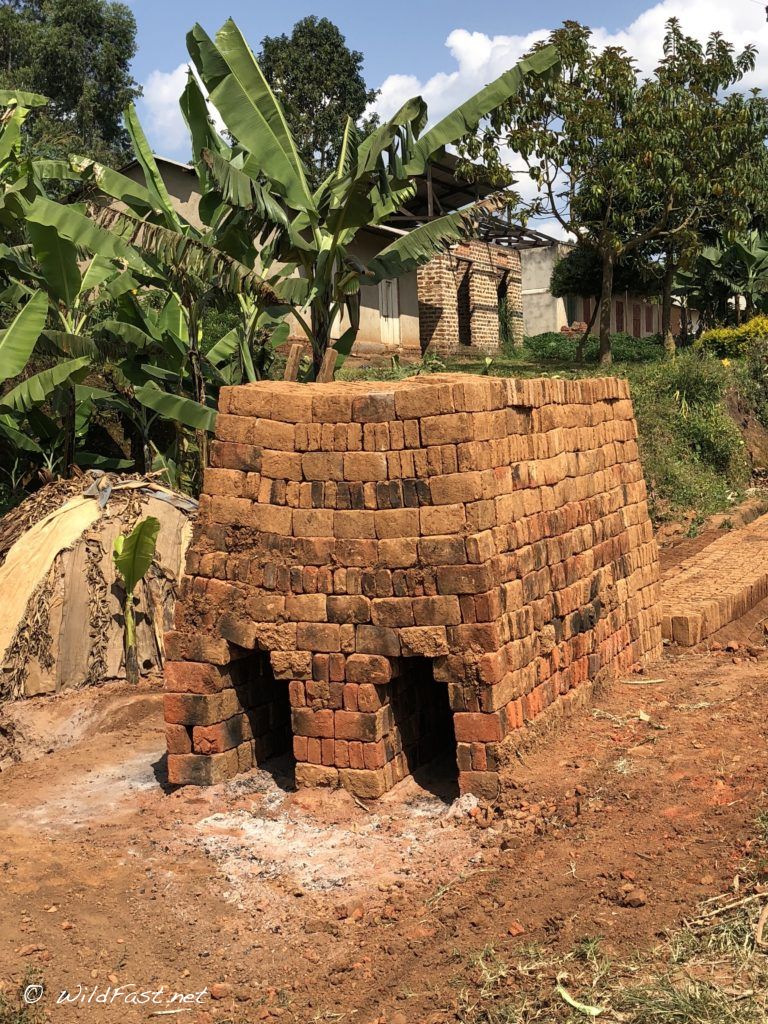 After a fast meal, a steep uphill road drive us up to 1900mt asl to the Lads Bunyonyi: what a beautiful view from my easy accomodation!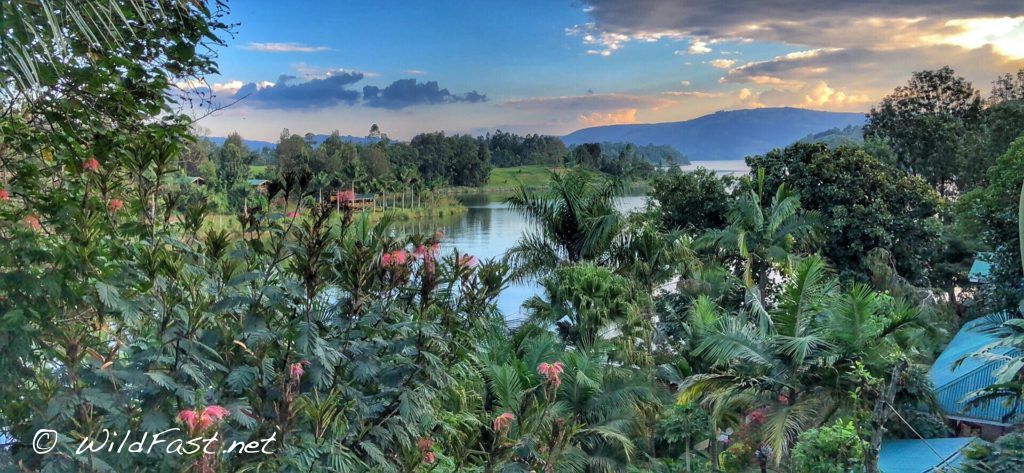 We have free time today so I decided to go out of the lodge to visit the saturday market all around the place on the lakeshore and then, I went for a hike to the top of the hill at about 2300mt asl.
During the way I met Samari, a sweet girl of about 8/9 years old that wanted to come with me helping me out to find the right track. I was panting due to the inclination of the track but in comfort with my technical shoes… She was breathing normal and hiking barefoot… 
I took some photos of the 29 island located in the lake and then climbed down, stopping to visit the house of Samari. I met her mom, sister and grandma, bought them some handcraft gadget and back to the lodge with Samari that wanted to come. I gave her a dollar to buy some pens as a thanks for guiding me..and then I ask her to go back home cause it was getting dark.
At dinner time, it started to rain: cold cold cold. Needed to wear a jacket: temperature went down to 9 degrees C. Fortunately in the bedroom, "under cover", it's not cold!
Tomorrow…is THE DAY: 5am wake up and an amazing day is waiting for me…. Mountains Gorillas, I'm coming!
Click!
———-
Day 7
I'm really excited and can't sleep properly. Weather seems to be good: no clouds, but difficult to say because is still night outside. Fast breakfast and again hitting the road: 2 hours up and downhill to get in Bwindi.
We were "in time": meeting and briefing were at 8 but…..on the road…. I got a magic surprise: the scenario it's amazing. An ocean of fog, mist, in between the mountains and the forest, with some tops coming out from that white sea… Something unbelievable. And the kids (is saturday morning, no school..) walking with the common yellow tanks to go get the water…
Arrived at destination, we got a briefing and then ready to go.. In accord with the guide and the ranger, we want for the "hardest" track: some times shorter but up and downhill, mostly challenging.
Lot of mud, I fallen down a couple of time  because it was really slippery. Then a pond: as I stepped in , my leg completely went down with the water till the knee… and the the tight "impenetrable" jungle of Bwindi. Uphill, steep, with a tight vegetation. As you walk, difficult to say if you gonna hook into something, or get deep into it…. humidity is high, lot of mosquitos, sure lot of ticks..
but after some hours……..I completely fallen into a mom Gorilla with her kid.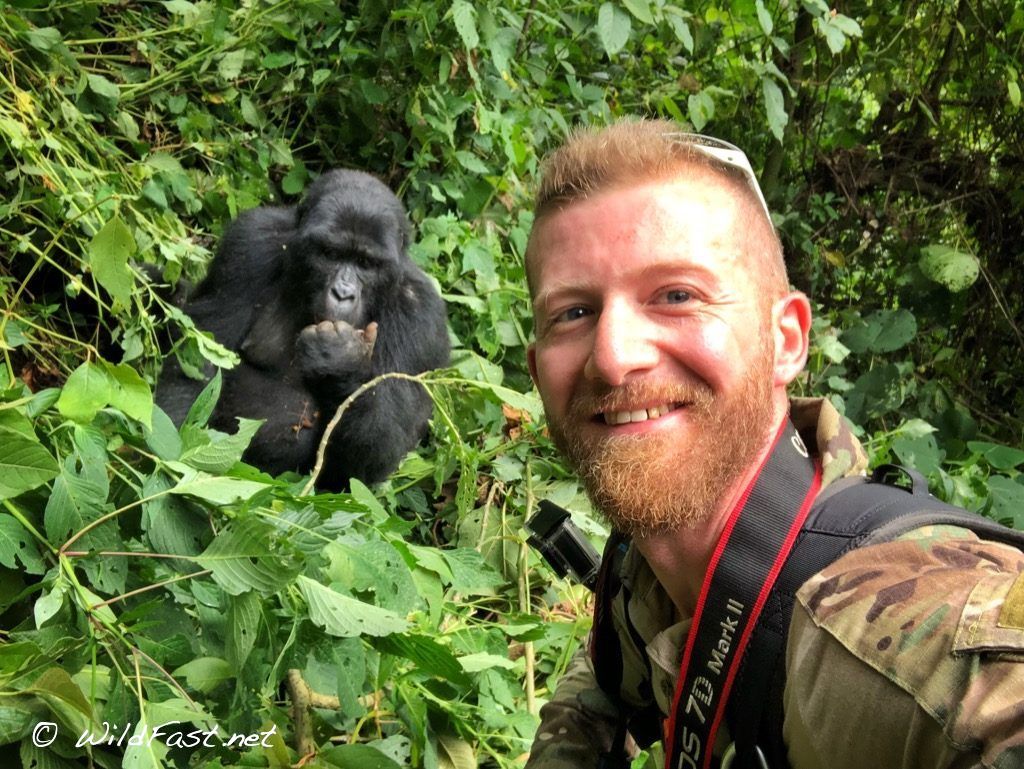 I really don't know what to say: the emotion I felt is something unique. I was 1 meter far from a 200kgs mountain gorilla and her kid. She was looking at me while eating. Then I moved and she got nervous: the ranger talked to her in "gorilla language" telling her "stay calm, we are friends". And she did.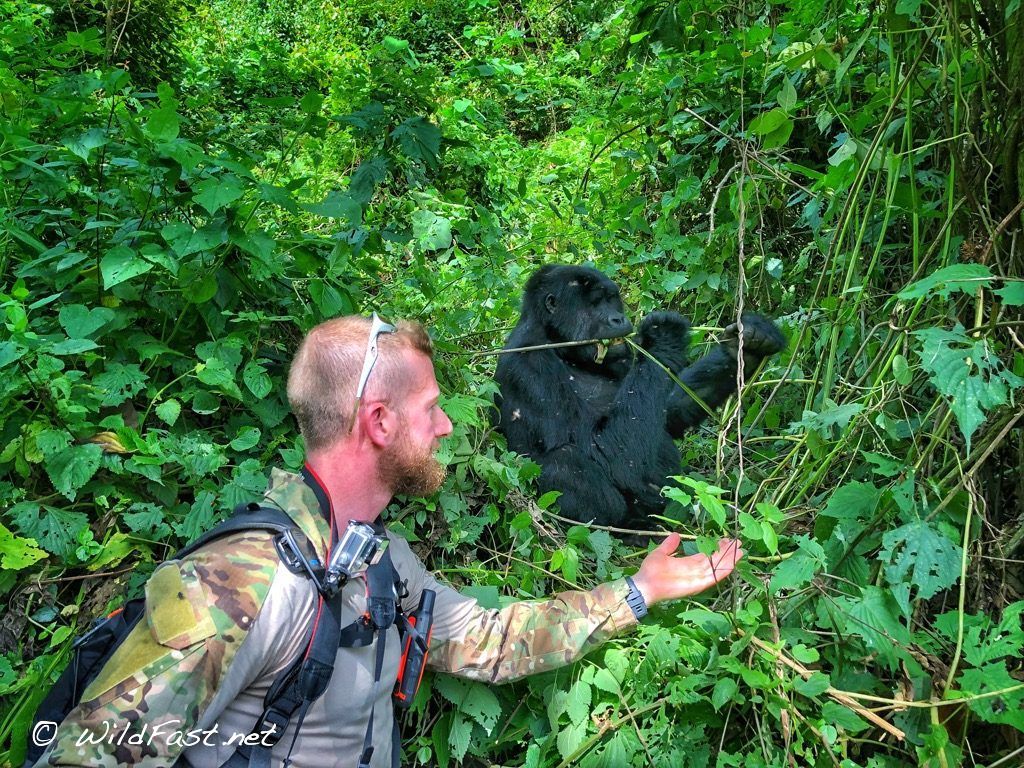 Don't really know what to say.. a magical moment I'll keep in my heart forever and ever. 
We moved a little bit and we met an enormous Silverback: the head is 3/4 times our head.. huge.
We spent a hour with them really close, trying to walk in that tight vegetation without disturbing them.
Them, we climbed down. I got a diploma and  say thanks with all my heart to the rangers.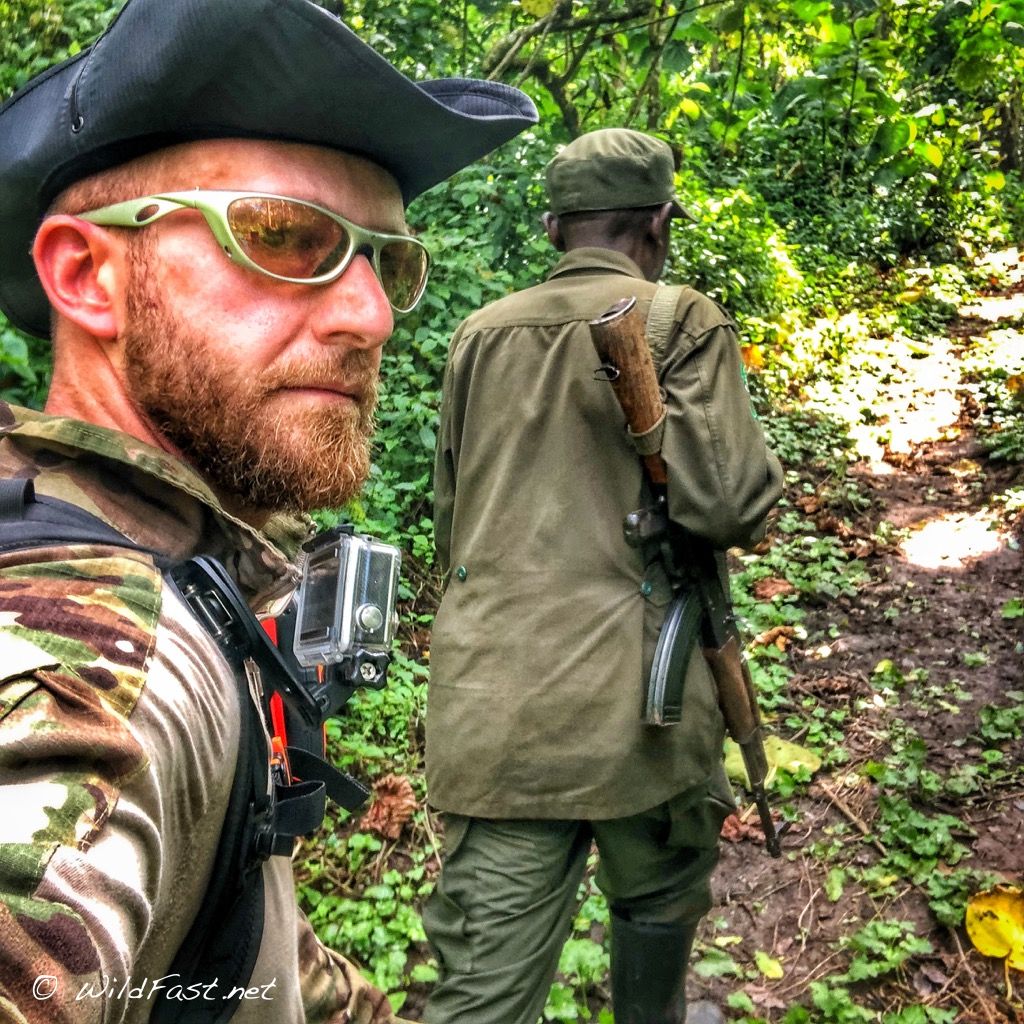 Before hiking, the community of Bwindi is there to ask you if you want to get your backpack transported by them for 15$. The moneys goes to the community. I preferred to take my backpack cause I'm used to hike but I gave them 20$ for their work.
When I was closed to the mom Gorilla, I had tears coming down on my face…it was like living a dream, really. Didn't seems like reality.
I took the whole afternoon to "absorb" the emotions I felt and sorting out the photos… 
At dinner time, Charles arrived trembling: he thinks he have malaria. I tried to convince him to get to the hospital or take some pills but he preferred to go back to the room. They are kind-of used to but…it's always malaria..
So I had dinner by myself, updated the blog, chatted with some friend and back to my room to prepare the backpack for the next day. Destination: park Mburo!
Time to sleep…. click!
———-
Day 8
Charles looks better: I proposed him to let me drive but he assure he is better.
After the same beautiful panoramas on the road, we stopped to have lunch and he went to a pharmacy: 24 tablets of Lumartem to cure the malaria, 5.000 shellins (about 1.10€)…… Now, 2018, millions of people (mainly kids and olds) still die for malaria…. unbelievable..
We arrived on the road that will drive us to the place where we are gonna spend the night: far away, I see a big high hill with some tent over it… there they are!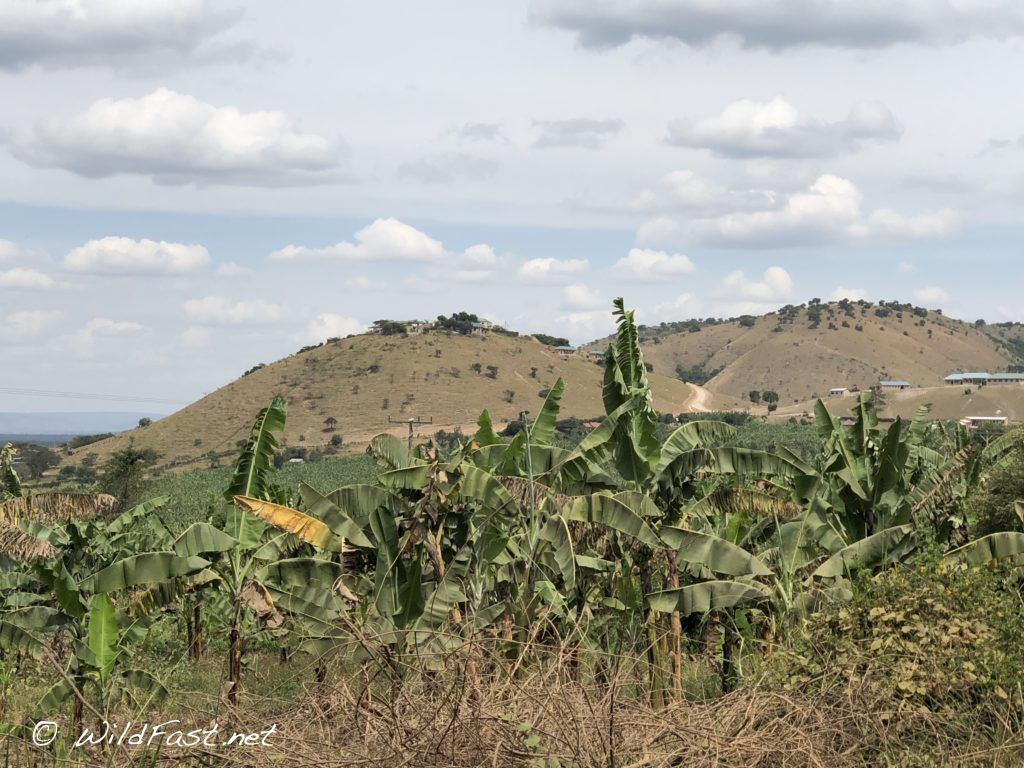 The place is amazing…from my tent I can see all the valley, all the savannah and the Lake Mburo… The tent is crazy, I even have a private and clean bathroom just behind it that I can access directly from my tent…so I can have a hot shower looking at the stars! (well, I can even sit on the wc and looking at the sky…)
There are no plugs but….I have my battery pack and my 28w solar panel. I placed it under the sun outside of the tent to then discover that I'm surrounded by monkeys, small grey vervet monkeys… One of them, decided probably to go on facebook because it tried to rob my iPhone!
At 4pm, I went for a game drive in the savannah down here for a couple of hours.
And then back uphill for an amazing dinner with an incredible view: tonight, tilapia fish really well cooked and some side dishes as rise, vegetables, irish potatoes, lentils…and a cup of white wine.
Surprise of the night: I was taking a magnific shower under the stars when, turning back, I had the same monkey looking at me…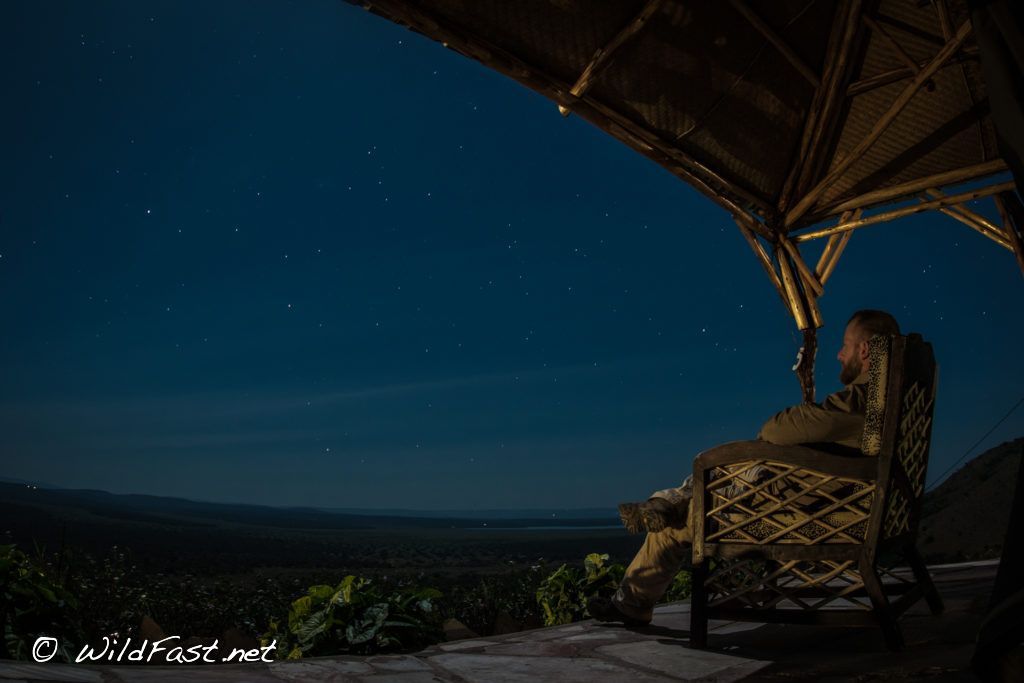 Half hours sitter outside looking at the panorama under a full moon and a starry night and… bed is calling. Tomorrow morning, a bush walking a 6:30.
See you tomorrow….click!
———-
Day 9
Last day, last morning…it need to be super!
06:30am I'm back in the park: a ranger is waiting for me for a bush walk that is walking in the open savannah.
The guy has a rifle, it's mandatory for the security but 99,9% of the time there's no need to use it. Why? because wildlife can be dangerous, it's true..but it's not like they paint it. If you know how to move, where and how to react in case of a dangerous meeting..nothing will ever happen. Some animals are really difficult to spot but..they see you and smell you very well, and they are not waiting for you.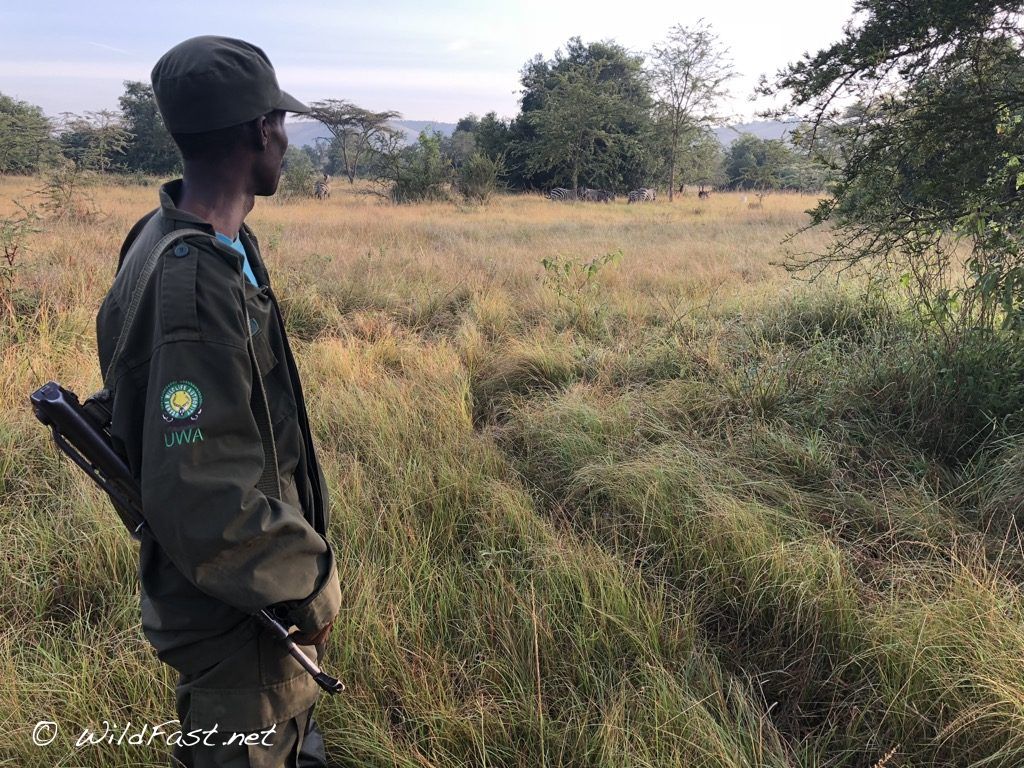 Some animals like buffalos, hippos and elephants can be aggressive under certain circumstances but there's no reason to make it happen. My ranger stepped a few time at some meter from a leopard and once he finally saw it, he just step back and changed his direction.
Mind that many people still live in the open savannah and lions or other animals are not they're cause of death. 
Sometimes while driving a car for a game drive in the bush, is common to see people back and forth with motorcycles or bicycles going to get water or women walking to get wood..
After a couple of hours walking, we went back and I finally had my breakfast…a good shower…and then had to prepare the backpack to leave this beautiful place.
The guys in charge of the place gave me back the clothes I asked to wash: there are no washing machine.. they normally give them to some mamas that manually wash it with a home made ash soap and let them dry on the grass or over some bush.
Ready on the road again, after some hours we stopped at the equator to have lunch, get some souvenir and then back on the car for the last couple of hours to Entebbe.
Yesterday evening, while preparing the photo of the stars I posted before, I slided my hand under a wood pole of the tent and I got pinched by something on my left index finger feeling some strong pain for some second. I thought I got a sliver or so but cannot actually find it to remove it. So I put some antibiotic-antistaminic-cortisonic cream I always take with me when I go to Africa and passed the night.
Today I had my finger double-sized and sometimes it itches a lot but can't find the sliver. So actually I decided to see and try the health care in Uganda…: I stopped in a village and went to the local medic. The "clinic" is something really different from the ones we are used to. Once in, the receptionist was looking a football match with a friend and called the doctor.  He tried to open up the skin where the supposed sliver got in but without success..he think as well that probably I got beaten by some insect.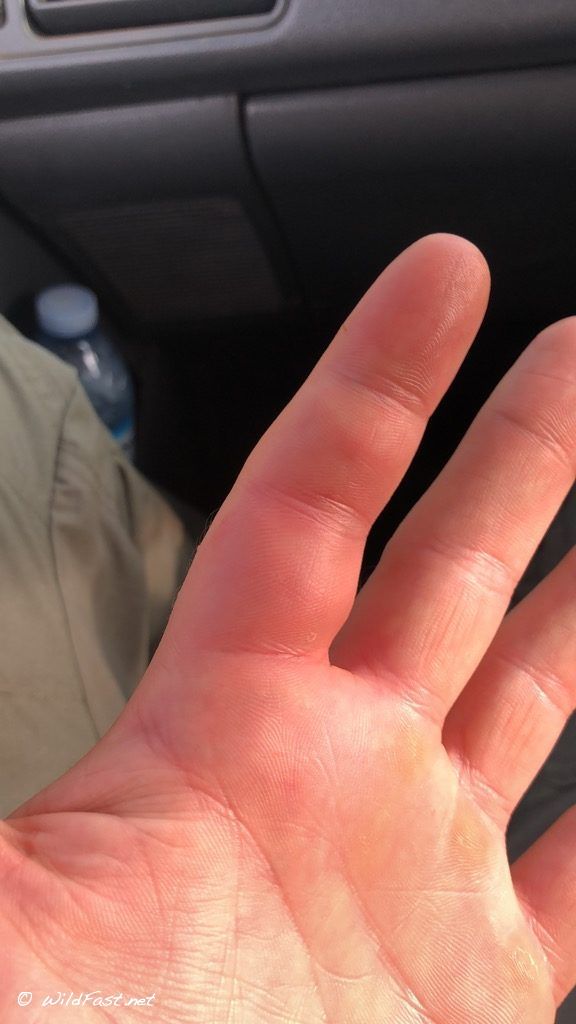 Results? Antitetanic injection and some antibiotic pills… Well, I was thinking anyway to get an antitetanic as soon as I would have been at home but…I'm already here..
Fixed this, in a hour or so we arrived at the place I'll stay for the night… a nice room with a comfortable bed is waiting for me and literally calling me: time to talk a bit with Charles to organise another trip inviting him for a tea… some greetings before he leave (I'll miss him, has been really like travelling with a father..) and I went straight to bed  to rest without having dinner, fixing the photos and updating this article.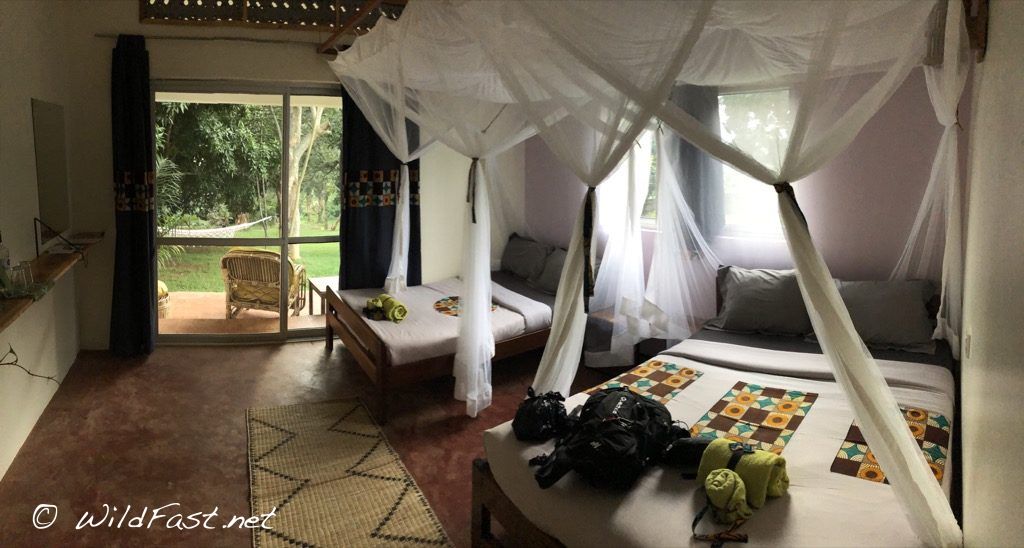 Tomorrow….late wake up, late check out. No alarm… sometimes, I need it!
So….. see you tomorrow…click!
———-
Day 9 – Last day
As already said: late wake up. I actually opened the eyes a couple of time around 6 and 7 due to the sounds of nature but I really woke up around 9. A nice breakfast and ready to start the day.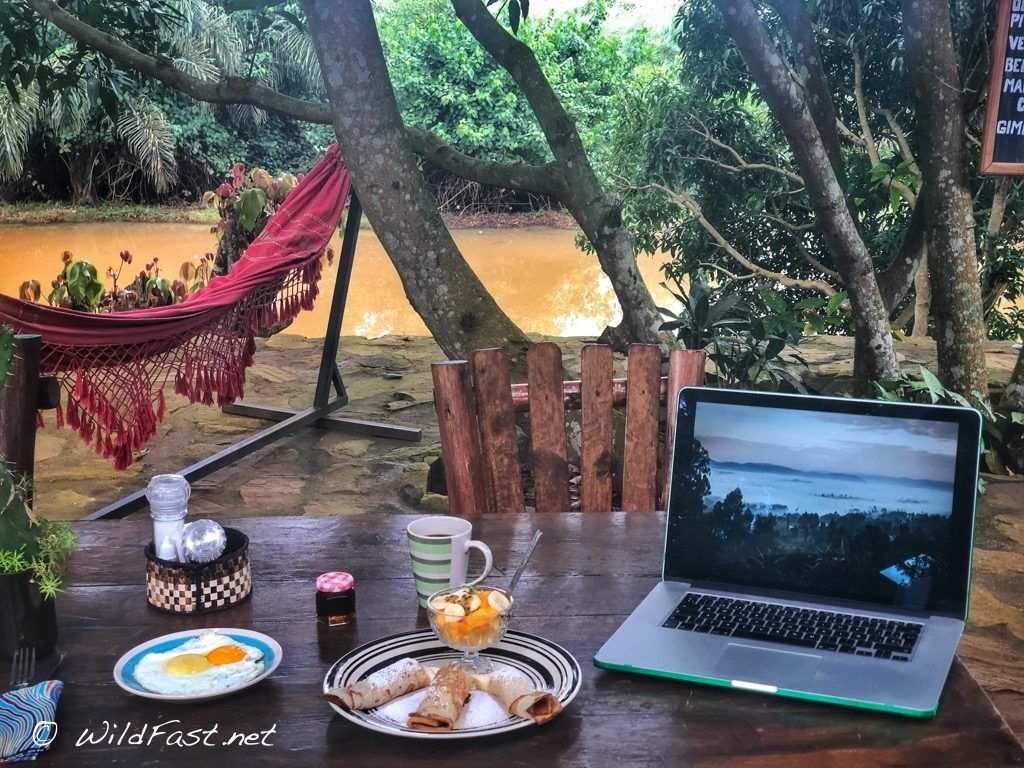 Need to get cash: in all Uganda I really found a few places accepting credit cards. You can actually find a cash machine in every town but payments are 99% of the time in cash. So I walked to the Victoria Mall and back to get some money to pay the room. On the way to go and back I stopped to the family of the small village of the firs day, close to where I'm staying. Met the kids and played a bit with them. I even gave them 3 snack I had with me: they did not know how to open them so I had to help them out and then…they did not know how to eat them; they were just licking like an ice cream…
On the way back, I stopped again and… a peanut, one of the kids, came to me with a bunch of bananas as a gift or having spent time with them and having gifted some of my snacks. Can't totally accept it: I just ate one for respect but many thoughts came to my mind.. It's incredibile.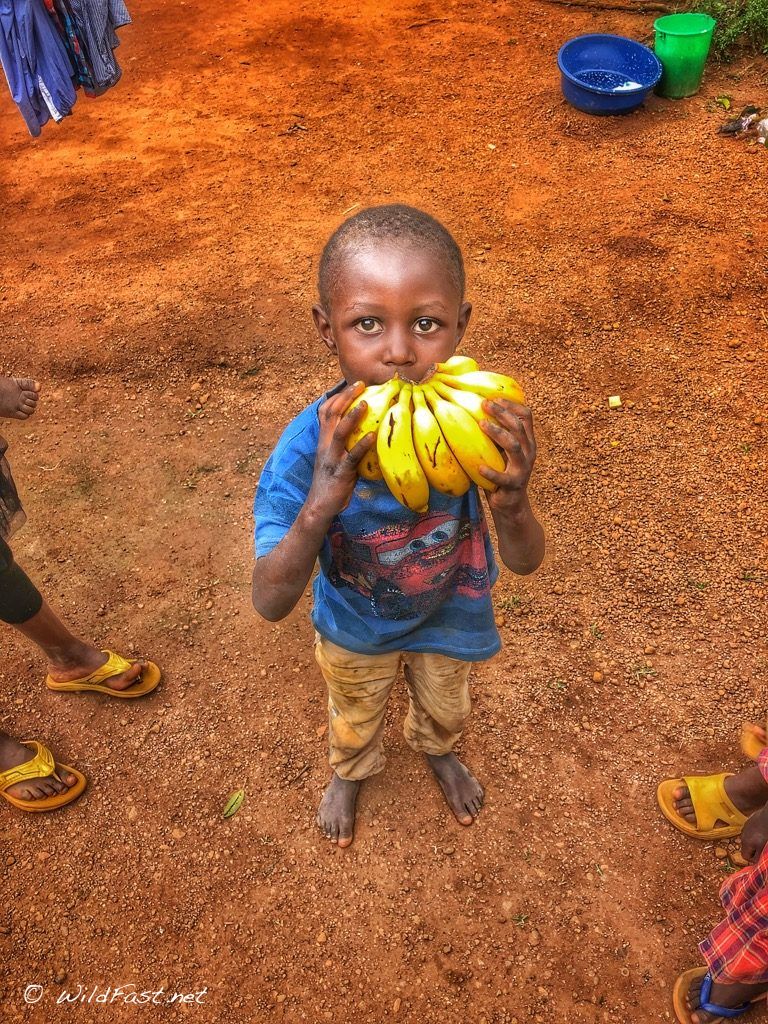 "Many times you find richness when there is nothing, and nothing when there is richness.."
Lunch, packing up and…taxi to Entebbe airport.
It's really done. I'll miss a lot Uganda, this trip really worth its value. Another magnific place to visit with many kind people. Probably they're true to say..Uganda: the perl of Africa.
So… next year, 2019, I'm gonna organize a trip here of about 10 days walking more or less the same steps I did in this trip. If you are interested, contact me.
Thanks for supporting… bye!